License Manager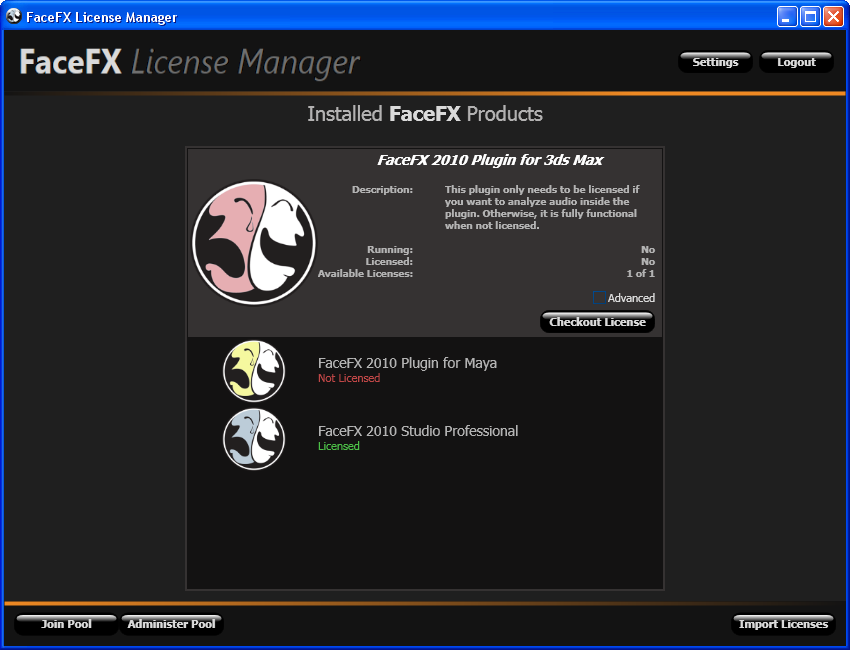 Logging In

Log into the license manager using an account created from www.facefx.com.
Options

Settings - Lets you change the network adapter that licenses are locked to. If you replace, remove, or disable your network adaptor any licenses that are associated with it will not be valid. This situation can be resolved by simply checking in the invalid license, then checking the license back out (an active network adapter will be used when you check the license back out, so the issue will be resolved). If you frequently remove or disable a particular network adaptor, you may want to select a different one from the settings window.
Log out - Logs out of the License Manager

Join Pool - Sends a request to another pool administrator to join their pool. You must know the pool key. Ask the administrator first.
Leave Pool - Allows you to leave a pool that you have joined.
Administer Pool - Brings up the Pool Administration interface. Use this when you want to share your licenses with someone else.
Import Licenses - After you purchase FaceFx, you will get a code that will activate your license. Enter the code here.

Installed FaceFX Products

This section lists the products installed on the current computer, not the licenses available from your license pool. When you select an installed product, you will be presented with options that let you manipulate the license:


Checkout License - When this button is shown, there is a license available for you to check out. It may be from your pool, or it may be from a pool that you belong to. If there are multiple licenses available, the Checkout License button attempts to figure out an "optimal" license to check out. Preference is given to licenses that do not expire, licenses from your own pool, and licenses from more recent versions of FaceFX Studio. If you want control over the exact license you are checking out, click on the Advanced checkbox
Return License - This returns the license you currently have checked out for the product. The license is then free to be checked out on another computer.

See Also

Sharing Licenses
License Manager FAQ